Speisekarte | menu

Unser Angebot ist zu 100% vegan. wir bevorzugen Fair-Trade und Bio-Produkte. Außerdem achten wir auf Regionalität und verzichten weitestgehend auf künstliche Aromen und Konservierungsstoffe.

♡

our menu is 100% vegan. we prefer fair trade and organic products. we pay attention to regionality and avoid artificial flavours and preservatives.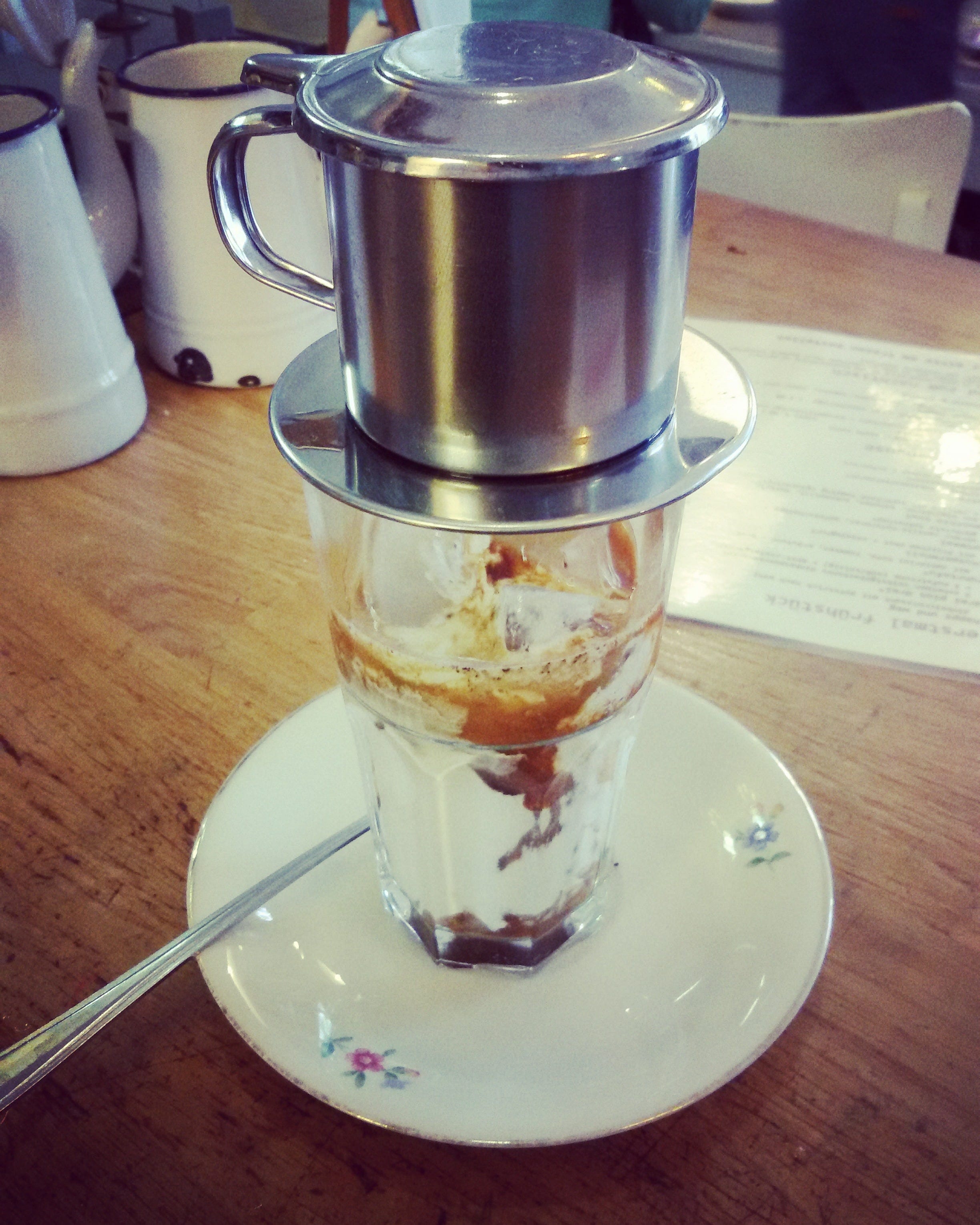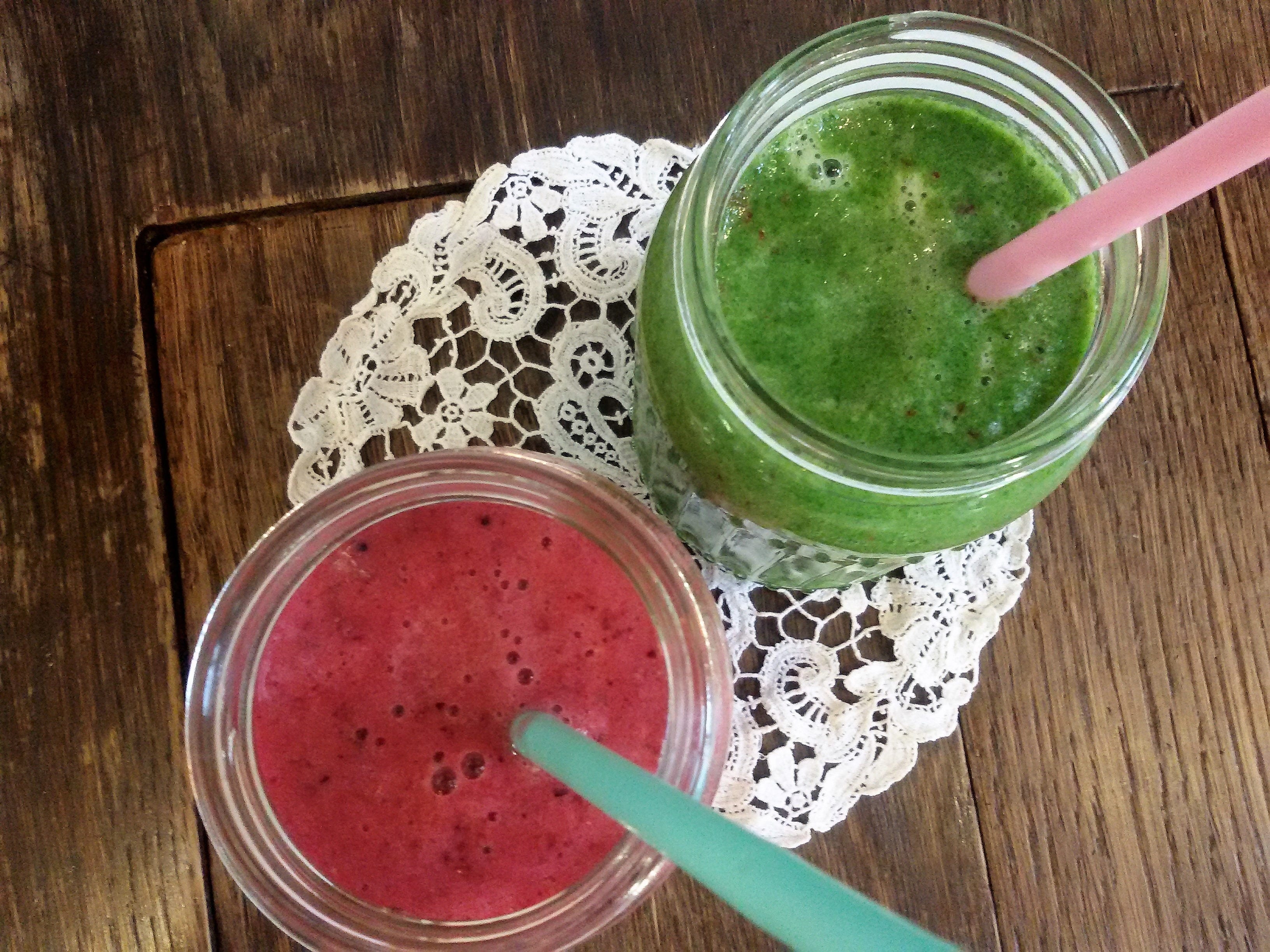 hot
coffee
espresso°single | double 2.20 | 3.20
americano°small | large 2.50 | 3.50
french press° (2 cups) 4.50
cappuccino° small | large 3.40 | 4.60
flat white°♥ 4.00
milchkaffee°♥ café au lait 4.00
latte macchiato°♥ 4.00
vietnam style° (vietnamese espresso + coconut milk) 3.80
lupinenkaffee lupine coffee (decaf, 2 cups) 4.50
extra shot espresso 1.00
extra milchkännchen ♥ extra milk 1.00
→ wir haben auch entkoffeinierten kaffee! you don't want caffeine? ask for decaf!


tea
black | green| mint | herbal | fruits | ginger | fresh lemon 0.4 l 3.50
other
heiße schokolade♥ hot chocolate (+sahne +whipped cream +1.00) 4.00
matcha latte°♥ 4.20
hafer chai latte oat milk chai 4.20
kurkuma vanilla latte 4.20
kindermilchschaum♥ frothed milk for kids 1.20
°koffeinhaltig contains caffeine
♥ triff deine wahl: hafer-, soja-, vanille-soja oder reis-mandel-milch
make your choice: oat, soy, vanilla-soy or rice-almond-milk
cold
frisch gepresster saft freshly squeezed juice 0.2 l 4.20 | 0.3 l 5.00
möhre, apfel, orange, ingwer carrot, apple, orange, ginger
homemade smoothie 0.4 l 5.20
wasser, limo, schorle und co. gibt's vorne im kühlschrank
water, lemonade and more in the fridge


food
unser frühstück gibt es den ganzen tag! our breakfast is available all day long!

zimtschnecke cinnamon roll 2.80


croissant 3.00 mit aufstrich nach wahl with spread +1.00

bagel 6.50
mit basilikumcreme, räuchertofu, frischen/getrockneten tomaten, süßem senf + salat
with basil cream cheese, smoked tofu, fresh/dried tomatoes, sweet mustard + salad


brotfrühstück* breads & spreads 8.90
3 scheiben selbstgebackenes dinkel-vollkorn-brot mit dreierlei aufstrich (süß/salzig), frischem obst und salat 3 slices of homemade whole grain spelt bread with
3 spreads (sweet/savoury), fresh fruit and salad


lachsfrühstück* salmon breakfast 9.00
2 scheiben selbstgebackenes dinkel-vollkorn-brot mit cashew cream cheese und lachs aus möhren,dazumeerrettichcremeund frisches grün 2 slices of homemade whole grain spelt bread with cashew cream cheese and salmon from carrots, horseradish and side salad
rührtofu* scrambled tofu 6.30
aus naturtofu, räuchertofu, getrockneten und frischen tomaten, serviert mit brot und margarine with two types of tofu, dried and fresh tomatoes, served with bread and margarine

oatmeal 5.50
mit mandel-reismilch, apfelscheiben und gerösteten kokoschips
with almond rice milk, apple slices and roasted coconut chips
knuspermüsli crunchy muesli 6.80
vollkornhafer granola mit frischem obst und sojajoghurt
whole grain oat granola with fresh fruit and soy yoghurt
smoothie bowl* 7.70
aus gemischten beeren, bananen, kokos-reis-milch, datteln und vanille
with mixed berries berries, bananas, coconut-rice-milk, dates and vanilla + superfood topping
kokosmilchreis* coconut milk rice 4.90
mit apfelmus und zimt-zucker with apple sauce and cinnamon-sugar
stück quiche* piece of quiche 5.40 (mit salatbeilage with a side of salad +3.50)
gemischter salat* mixed salad 8.50
mit kräutertofu und karamellisierten walnüssen, serviert mit brot
with herb-tofu and caramelized walnuts, served with bread
tagessuppe* soup of the day 5.50 serviert mit brot served with bread
extra…
…scheibe selbstgebackenes brot* slice of homemade bread 0.90
…aufstrich* spread 1.00
...salatbeilage side salad 3.50
*WAHLWEISE GLUTENFREI GLUTEN-FREE AVAILABLE
kuchen & torten cakes & pies
viele glutenfreie und sojafreie optionen many gluten-free and soy-free options available